Sorry, no cool header for this one! Also, I wrote this at like 2 am this morning, so it's definitely honest. The main gist is that I loved this book.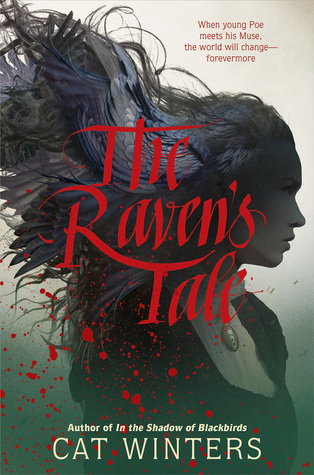 I was given an ARC of The Raven's Tale in exchange for a fair and honest review, and I can honestly say that I am privileged to have been able to read it.
The Raven's Tale is an interesting look at what life could have been like for Edgar Allan Poe as a young man on the edge of adulthood, with a very cool twist – muses, like Edgar's macabre, twisted look at life, can come to life, and his does in the form of a terrifying, macabre young lady. I was intrigued by this book when I saw it, because the cover is so very striking, and the synopsis had me hooked. I personally really enjoy Edgar Allan Poe, though I hadn't read one of his works in years, and one thing I wish I had done before reading was refresh. It's also important, I think, to point out how much reading this book made me want to go read an Edgar Allan Poe work.

About halfway through, I began to feel like the plot was moving in circles: Lenore the muse appears in Edgar's life and he rejects her. At this point I was hungry to start seeing them work together, but the plot picked up after that so I was satisfied. Overall, it's a very good read – I was hooked, I wanted to know what happens, I was invested in the characters. The writing style and worldbuilding was entertaining and I just wish there were more of it, but that may take it from a YA novel up a notch to adult fiction. I also wish that it were written in a darker tone, just to enhance the morbidity and macabre sense of the muse, but again, that would take it up from a YA novel. And it's important to note that I'm not knocking The Raven's Tale with these comments – I'm just saying that it leaves me craving another novel about Edgar Allan Poe and his muse, one suited a little more to my own tastes.

That said, a very good book. I like the disconnect between who Edgar wants to be as a writer, who Lenore wants him to be as a writer, and who society wants him to be overall (I'm looking at you, John Allan). I really like the character writing – no one feels like a cardboard character unless they're meant to be that way (like some of the boys at the University or characters in passing). Everyone who matters is well-rounded and well-written – even the characters you're not meant to like.

If you're looking for a cool twist on a classic figure, then this is the book for you.

Make sure to look for The Raven's Tale from Cat Winters this April! I personally highly recommend it – it's my first ARC I've had, and I was lucky to get such a good one.